Art History Summer School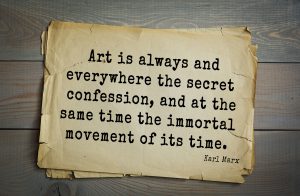 The History of Art spans tens of thousands of years; from the ancient cave drawings at Lascaux to contemporary cutting edge installation and performance works, with each piece and period having something important to show us about human life.
The Art History Summer School provides a five day whirlwind tour through some of the key moments in the development of Western artistic practice. It also offers an opportunity for students to get stuck into some big philosophical questions in the field of aesthetics – What is art? How can we judge 'good' art? Is it meaningful to speak of the 'progress' of art?
This course will give students an idea of what Art History has to offer at undergraduate level as well as the kind of careers which might follow from a degree in Art History, with a workshop in curatorship followed by a trip to the National Gallery to explore and critique current exhibitions.
This course will be led by post-graduates from top universities and will be taught through a small group lecture and seminar format. The Summer School offers strongly interactive environment for participants, allowing them to express and develop their own thoughts and ideas together with our tutors and like minded peers.
No prior knowledge is required to attend this course, all we would ask is that you have an interest in art and enthusiasm for studying Art History.
'The Art History Summer School was a wonderful experience! The lecturers made the subject fascinating, and I really enjoyed learning about the many different areas of art history. I would definitely recommend this summer school to anyone interested in learning more about the subject or considering studying it at university!'
'The Art History summer course was fabulous. Over the course of the week we studied a wide range of periods and styles as well as a trip to London's National Gallery. The intense nature of the course meant that one was able to learn a lot but also participate in many a discussion. Overall the course proved excellent and I would highly recommend it!'
'History of Art with Debate Chamber was a great way for me to confirm that I wanted to study the subject at uni. Not only did I learn loads of new concepts but I got a taste of curating – something I would love to pursue as a future career. The course has made me excited about my academic future!'
The Art History Summer School is open to students aged 15 – 18. This course will be running in 2019.
The venue for this course is the University of London, Bloomsbury Campus, Central London – you can see more venue and travel details here.
The cost of the five day Art History Summer School is £495 per student. Please note that accommodation is not included, and must be arranged independently if required. Bookings for any event may be made by individual students or parents or through the school.
Partial fees bursaries are available for students who would otherwise face financial barriers to attending the course – please see here for details.
To book a place or places at the Art History Summer School, or if you have any further questions, simply call on 0800 8101058, email info@jessicah56.sg-host.com, or use the form below.